MEST Indigo
High End HIFI Earphone Milestone New Product
The earphone revolution has begun! The MEST Indigo, delivering a dreamland of sound quality and color combination. 
In her wonderful indigo blue shell, decorated with 3D Pinewood Faceplate, she charms everywhere she goes. With the Indigo's noise blocking feature, immerse yourself in the sound of nature.
New Technology Innovation
4EST+DD+BA+dBC-s Patented Technology
Experience New Transient Reactions and Sensitivity
New Static Is Coming, Extraordinary Ultra-High Frequency  
Indigo Carbon Fiber Shells
3D Sapphire Pinewood Faceplates 
Upgraded UM Copper M3 Cable
Upper-grade OCC Cores, High Fidelity Sound Quality
3D Explosion Diagram
Aircraft-Grade Carbon Fiber Shells
The shells of MEST Indigo are made of Indigo Carbon Fiber and 3D Pinewood Faceplates Assembled in Bronze Frame. They shine like Sapphire.
MEST Indigo uses Aircraft-Grade Carbon Fiber, precious material often used in aerospace equipment and medical equipment.

Aircraft-Grade Carbon Fiber is very hard, and so it takes more than 12 hours to process each pair of shells.

The faceplates are made of Stabilized Fruit Wood, a blend  of pinecones and resin. After stabilization, the faceplates are then cut by CNC technology.

The pinecone panel adopts 3D radian design, which is smooth and rich with a three-dimensional feeling.

The faceplates are coated with metal frame, golden frame foil sapphire - like pinecone faceplates, noble and elegant.
From shells to faceplates, the indigo carbon fiber is flickering and mysterious. The shells are lightweight and comfortable to wear.
Replaceable Filter Design
In anticipation of the problem that the metal filter may get dirty and needs to be replaced, MEST Indigo's filter adopts a twist installation design. You can install new filters at any time without borrowing any tools, which is convenient and safe.
4EST+DD+BA+dBC-s Dual Sides Bone Conduction
9+1 Groundbreaking Driver Configuration
9 Traditional Acoustic Drivers + dBC-s Bone Conduction System
The driver system of MEST Indigo is composed of 1 Dynamic driver, 4 Balanced Armature divers, 4 Electrostatics drivers and 1 dBC-s Bone Conduction System. The transient response is faster, the distortion is further controlled, and the frequency response range breadth is soaring again.
Instantly capture millisecond sound quality. Insane details retrieval.
4 EST drivers further extend the ultra-high frequency. The dynamic driver is handling bass, BA is handling mid to treble, dBC-s system refines the entire frequency range.
The MEST Indigo is second to none in the performance of airiness and sound quality excellence.
UM Copper M3 Custom Cable
Transparent and Fluid Sound, Great Airiness, Excellent Detail Retrieval 
Coating Material:  PVC Shielding and Nylon Protective Sleeve
Wire Material:OCC Copper Wires and Isolator
Wire Gauge: 22 AWG
Wire Counts: 4 Wires and 4 Isolation Layers
Sound Performance: High
Softness: High
Anti-interference: Medium
Level: High-end
Environmental Friendly Level:High
MEST Indigo is equipped with UM Copper M3 Custom cable. UM Copper M3 is specially designed for MEST Indigo, and it is composed of 4 cores upper grade OCC wires. The wires are coated by eco-friendly navy PVC sleeve. Brand new bronze metal Y-splitter and slider echo with the metal frames on the faceplates.
Plugs are available in 2.5mm, 3.5mm and 4.4mm.
MEST Indigo bone conduction driver
The bone conduction driver now shares a larger conduction area with the shell (double sides conduct with the shell), which vastly increases the transmission efficiency and sensitivity.
MEST Indigo BA+ Bone Conduction—Wider Frequency Response Range, Higher Sensitivity.
The bone conduction driver now shares a larger conduction area with the shell (double sides conduct with the shell), which vastly increases the transmission efficiency and sensitivity.
dBC-s has an effective frequency response range from 500Hz to 20kHz, which carries out a full-range refinement.
Premium Leather Case
MEST Indigo's navy-blue corrugated leather case is made from vegetable tanned leather imported from Italy.
This leather will gradually change the shade of leather according to each person's usage habits.
The leather case is not only easy to look at, but also has a soft and delicate feel.
Working Principle Of Bone Conduction
The bone conduction drivers are made using metal vibration pieces that are covered by piezoelectric ceramics. The ceramic layers will bend the metal vibration pieces to make micro-vibrations according to the changes of input alternating voltage.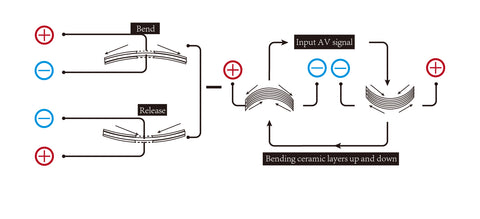 More Comprehensive Hearing Experience Using Bone Conduction And Air Conduction
The sound of bone conduction:
After scientific demonstration, the sound that transmits vibration to the inner ear through teeth and skull is the sound transmitted by bone. For example, the sound heard when eating, drinking or scratching your head.
MEST Indigo applies bone conduction technology and transmits a specific frequency range by vibrating the shells' inner parts. The sound will bypass the nozzles and deliver music directly to your inner ears via skull contact.
Path: AV signal-Bone Conduction Drivers- Skull- Cochlea- Acoustic Nerve
Specifications
Product Name: MEST Indigo 
Headphone Type:  9 Traditional Acoustic Drivers +dBC-s Bone Conduction System
Driver  Counts:   10 Drivers
Sensitivity:   @1kHz-118dB
Frequency Response Range:  20Hz-70kHz
Socket:   2-pin Socket
Shells:   Indigo Carbon Fiber + 3D Pinewood Faceplate
Crossover:  5-way Crossover
Impedance:    13.2Ω
Configuration:    1 Dynamic Bass Driver + 2 BA Mid Drivers+ 2 BA treble Drivers +
4 EST Ultra-High Drivers +1 Full Range Dual Sides Bone Conduction Driver
Cable:  UM M3 22AWG Upper-Grade OCC Custom Cable
Packaging And Accessories
Headphones:  One pair of MEST Indigo
Cable:  UM Copper M3 Cable
Case:  UM "ESP" Double Drawer Black Gift Box
Carrying Case:  Dignis Leather Case
Warranty Card:  Warranty Card
Others:   Premium Grey Cleaning Pad
Eartips:  AZLA SednaEarfit Xelastec  SS/MS/M+silicone  S/M/L 
Storage clip:  Storage device